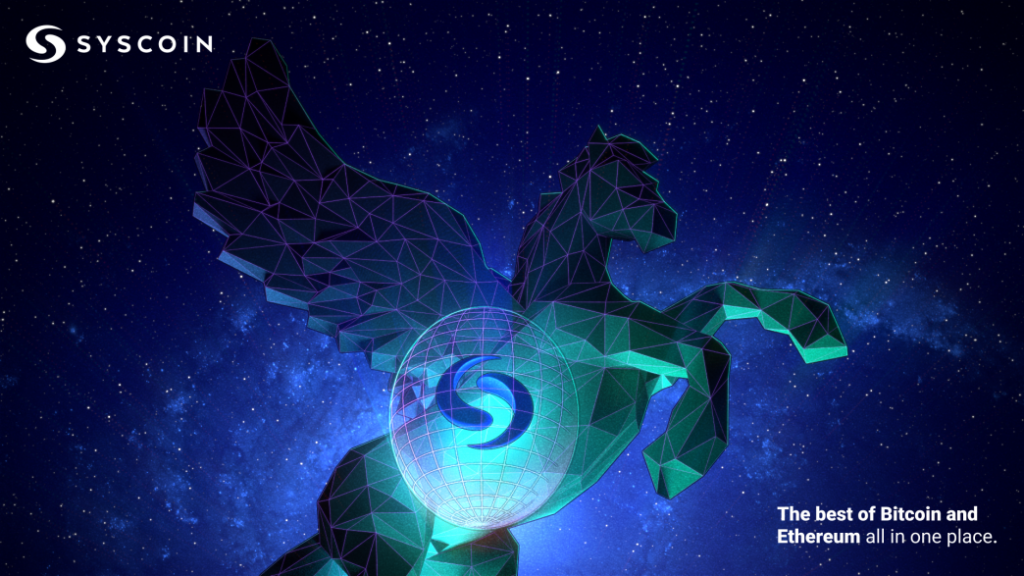 The mission at Syscoin is to continually push blockchain technology forward. This is accomplished by combining the best of Bitcoin and Ethereum into one platform and achieving technological breakthroughs, which invite wider adoption. That is why the project is happy to introduce Pegasys, the first DEX (Decentralized Exchange) and AMM (Automated Market Maker) to run natively atop the Syscoin NEVM.
2022 is already a momentous year for the Syscoin Platform, because it will feature the imminent implementation of ZK-Rollups followed by Validium later on, thereby bringing to completion the three phase NEVM. Beyond the tech that makes everything possible, many moving parts are falling into place that makes the project a serious contender in the DeFi space as the project continues to form new partnerships.
Pollum is the organization behind Pegasys, who has been working together for a while now. They have been instrumental in making the roadmap a reality and the key team behind Syscoin's official Pali Wallet. They share the same vision for the heights Syscoin will reach, and the  joint contributions will bring about the infrastructure and dapps needed to bring it to fruition.
The founders of Pegasys have an established history of contributing value to the Syscoin ecosystem through past projects they've developed and managed. They are very familiar with the mindset and goals of Syscoin, and strongly align with them. The Syscoin Foundation is very happy that the Pegasys team has led the charge and that they are now delivering what we consider to be Syscoin's native DEX and AMM, on NEVM Layer 1. We're excited to see how they innovate Pegasys even further as we go into the future.
-Bradley, Syscoin Foundation board member
Pegasys builds on the advancements of Uniswap, which are only furthered when combined with the inherent advantages of Syscoin, which include extremely low fees and increased security when compared to purely Ethereum-based systems. Yet, this is only on Phase 1 of the Syscoin NEVM, whereas Phase 2 will massively increase speeds and Phase 3 will make them untouchable.
DeFi and Syscoin users alike will feel right at home on the Pegasys exchange, because beyond its architecture, Pegasys will offer the services DeFi users are accustomed to, including ways to earn passive income with a lower barrier to entry than what it takes to run a Syscoin masternode. Aside from SYS, Pegasys users will also be able to earn its very own native crypto token, PSYS, which serves as the core currency of the DAO they have constructed.
Pegasys will be the first-mover dapp built entirely on Syscoin, so our ambition is to make it a rock solid protocol that also offers proper development support so others can build on top of it and create new possibilities. We have a bold roadmap to keep the product fresh and continuously evolving. We at Pegasys invite all Syscoin supporters to join us in building the DAO by taking part in our community.
-Kaue, Pegasys Strategy
About Syscoin
Syscoin is a decentralized and open-source project founded in 2014 whose NEVM combines the best of Bitcoin and Ethereum in a single coordinated platform.
Bitcoin's proven security and Ethereum's Turing-complete programmability elevated to true L2 scalability via ZK-Rollups taking place on a singular platform, Syscoin, is ushering in the next step in the evolution of blockchain technology.
Website | Discord | Telegram | News | Github | Facebook | Twitter | Instagram
About Pegasys
Pegasys is the first decentralized exchange built entirely atop Syscoin. As a DAO, it offers its native token, PSYS, as an incentivization device and means of governance. As a result of its design, Pegasys is able to offer far lower fees than its Ethereum-based competitors while also keeping security a top priority. Pegasys inherits the interoperability of the Syscoin NEVM, which also makes it an ideal DEX for trading ERC-20s as well as Syscoin-based tokens.
Media Contact
Michiel
Email – [email protected]
PR – Cryptoshib.com
Email – [email protected]
Information contained on this page is provided by an independent third-party content provider. Binary News Network and this Site make no warranties or representations in connection therewith. If you are affiliated with this page and would like it removed please contact [email protected]