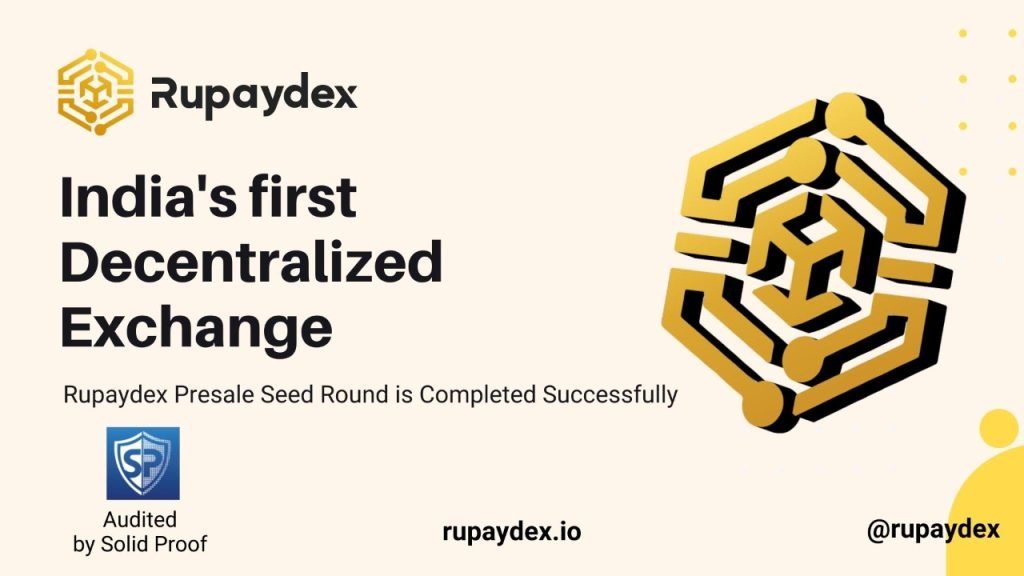 Delhi, India, 5th June 2022, ZEXPRWIRE, Rupaydex-India's First Decentralized Exchange today announced the close of its first-ever presale seed round, with support from a diverse group of investors.
We'd like to let you know that our presale seed round has now closed. We are delighted to inform you that we have received tremendous support from all of you. Spreading our name around the internet, providing comments, well wishes, and fresh ideas, among other things. Thank you all for your kindness and affection.
As we continue our objective to empower consumers to accomplish more with their money, the round is significant for Rupaydex. We increased our cryptocurrency capabilities this year while maintaining some of the lowest rates in the industry for buying, selling, and converting cryptocurrencies – for both retail and institutional traders.
The completion of our seed round gives us the possibility to reach out to even more people in India. We'll keep focusing on the following possibilities:
Developing and improving our industry-leading trading platform.
Developing and launching a new product and service package that will be unveiled soon.
Increasing awareness of the, as well as educational measures to close the knowledge gap.
About  Rupaydex-India ka Apana DEX 
RupayDex, which was first conceptualized in 2022, will provide a solid platform for application-specific networks to connect and deploy easily. Interoperability between different assets on multiple networks is possible from our perspective. Our technical DEFI approach can tackle problems that have hampered DEFI in the past. This will be accomplished through an ideal aggregation protocol that will intelligently aggregate liquidity from the whole crypto market on a single decentralized platform — RupayDex.
RupayDex is the first full aggregation protocol for crypto trading, including cross-chain swaps and liquidity sourced from a mix of Defi and CeFi. Our machine learning and AI routing technology discover the best prices available from DEXes and (some) CEXes, resulting in better prices, less slippage, and faster settlement for traders.RupayDex will run an exclusive Defi AMM aggregator system governed by RPX Tokens, the RupayDex Platform's native currency. Our token holders can lend, stake, and profit from their investments. Token holders on RupayDex receive substantial reductions on trading fees.
Objectives
Our objective is to employ blockchain technology's primary features to improve user experience and provide new efficiencies in a much more realistic way. Indeed, this is a straightforward strategy that goes beyond the hype and rhetorical features to provide value to average crypto traders. The blockchain ecosystem is brimming with endlessly profitable concepts, making it a truly unique movement – one where fresh ideas may thrive. Decentralized blockchains exist.
Special Features
Our one-of-a-kind cryptocurrency aggregator, which is at the heart of the RPX economic model, discovers the best price on SPOT and makes it available to all traders upon request. 
Our ecosystem is being built with a bespoke matching engine that will allow us to connect to hundreds of exchanges in real-time through API. 
RupayDex will leverage merged order books to enable cryptocurrency trading at the most competitive market pricing, allowing us to transmit tangible dividends to our users.
 Our UI is structured like a standard exchange interface, delivering an advanced list of available currencies on the market, in addition to unparalleled savings and simplicity. As more hedge funds become interested in our exchange, our platform will match orders effectively against each other on a peer-to-peer basis within its own internal network.
We are working on two protocols at RupayDex: CSIPs and DSIPs. CSIPs stands for "Custodial SIPs" and DSIPs means for "Decentralized SIPs." Users will be able to explore both forms of systematic crypto investment planning by using these two capabilities on RupayDex.
We at RupayDex are patronizing the fastest, easiest, and most efficient systems to capitalize on the best arbitrage opportunities and earn money as market makers as a platform that essentially operates on a peer-to-peer strategy and brings those who want to trade efficiently with the best price margins provided on every single exchange as well as brokers who want to receive guaranteed transaction fee revenue for fulfilling orders on a trader's behalf.
Final Thoughts
In the aftermath of recent centralized exchange hacks and mistakes, the DEX concept is still gaining traction, as the cryptocurrency community recognizes its potential. Overall, the DEX is a better fit for cryptocurrencies and the decentralized worldview of blockchain.
RupayDex is the first crypto trading aggregation protocol, including cross-chain swaps and liquidity derived from a mix of Defi and CeFi. Our machine learning and artificial intelligence (AI) routing system discover the best DEX and (some) CEX pricing, allowing traders to make informed decisions with the lowest costs, the least amount of slippage, and the fastest settlement.
Community & Social Media:
Telegram: https://t.me/rupaydex
Twitter: https://twitter.com/rupaydex 
Faceboo: https://www.facebook.com/rupaydex 
Linkedin: https://www.reddit.com/user/rupaydex 
Instagram: https://www.instagram.com/rupaydex/ 
Reddit: https://www.reddit.com/user/rupaydex 
Media Contacts
Company Name: Rupaydex
Official Email: [email protected]
The post India's First Decentralized Exchange: Rupaydex Presale Seed Round is Completed Successfully appeared first on Zex PR Wire.

Information contained on this page is provided by an independent third-party content provider. Binary News Network and this Site make no warranties or representations in connection therewith. If you are affiliated with this page and would like it removed please contact [email protected]